Traveling makes us feel alive, and at the same time, it can also be a hassle. You'll not find a single traveler who never faces any travel related disputes. Your trip might present all kinds of problems, and travelers often have things to complain. There are some common travel hassles, more often travelers are facing. So, how to deal with lousy travel experiences or travel problems? How to resolve travel dispute through online? Details inside to deal with five common air travel hassles.
As a solo female traveler, I found two common travel hassles and personally I have faced those. One is the delaying of flights, and another is luggage missing at the airport. I don't know; I always have a fear to lose my luggage. And recently it happened at Kuala Lumpur International Airport (KLIA) in Malaysia.
I was flying with Malindo Air from Bali to Kuala Lumpur. My red-colored Echolac Luggage was missing at baggage claim section. I instantly reported to the airline's baggage desk. And luckily I got the solution without any harassment. Otherwise, I might claim against airlines.
Kuala Lumpur International Airport
5 Common Air Travel Hassles (How To Deal)
For any of you traveling frequently and mainly in the US on US carriers, here are some tips for the following air travel hassles.
Hassle 1: The Change of Flight Schedule
Tips – Make a call to the ticketing agent to get a refund. Try to use the airline's app and keep the notifications option ON to get all current updates.
Hassle 2: Denied Boarding for No Visa
Tips – This case is very tricky. There are many countries where you don't need any visa to travel. But you might face the problem by the airlines during boarding time. So in such case, you can ask for an instant visa from the consulate.
Hassle 3:  Flight Cancelled Due to Bad Weather
Tips – Better to select early morning flight to avoid any flight cancellation. Else you can ask for a refund.
Hassle 4: Luggage Missing at Baggage Claim
Tips – Better to avoid black-colored luggage. In most cases possible to get back the luggage after an immediate report to the airline's baggage section.
Hassle 5: Travel Insurance Claim Denied
Tips – Be sure about every policy before going for any travel insurance. You can't claim all kinds of travel-related help from travel insurance. Like, travel insurance has nothing to do with denied boarding.
At A Glance 5 Air Travel Hassles [Infographic]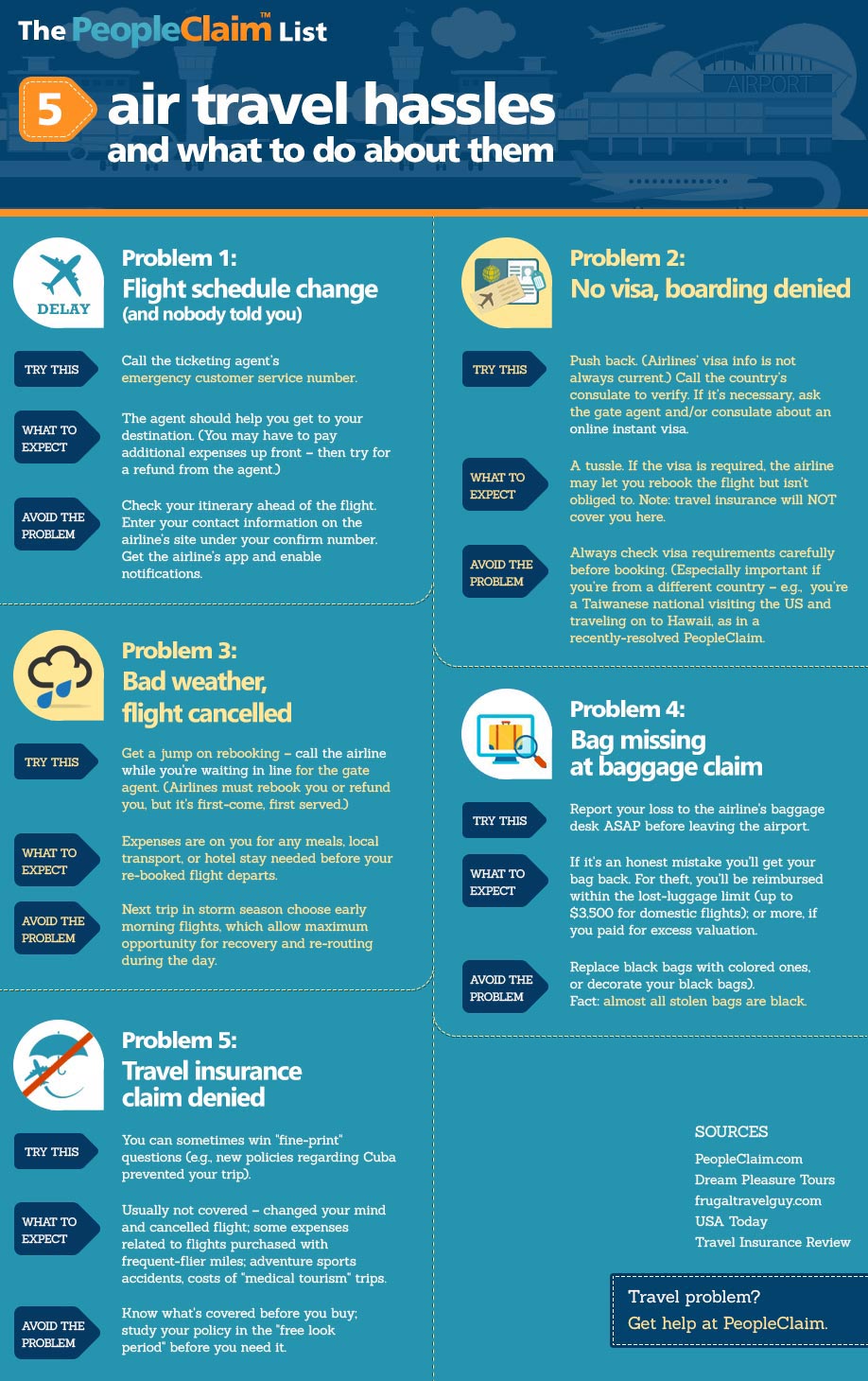 Sometimes you don't get any instant solution for many travel hassles. You became unsatisfied with the service provided by the airlines and travel companies. To deal with such cases, you can go for PeopleClaim to resolve a dispute online.
Recently I came to know about PeopleClaim, a handy and useful tool for any traveler. The best part is you don't need to wait a long time for customer support or to file a lawsuit. At an affordable price, you can resolve your dispute from anywhere and against anyone. They are working great to give the hassle-free solution for any travel-related problem.
Disclosure: Some of the links in this post are PeopleClaim "affiliate links." I'm recommending this travel tool because I found them reliable. I would go for their service for any travel problem.
Share your thoughts. Have you recently faced any air travel hassles?